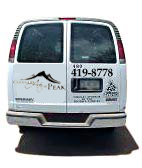 Delivery
The Finest Drycleaning Delivered Right to Your Door. Give Our Pick-Up & Delivery Service A Try.
You can have you drycleaning picked up and then delivered fresh right to your front door. And you don't even have to be home for delivery! Click here to sign up today.



We currently deliver to the following Zip codes:
Frequently Asked Questions
Q: Do you charge a delivery fee?
A: No. The service is FREE! You are charged the same price as our in store clientele.

Q: What type of bag do I use to put my clothes in for pick-up?
A: Simply use a regular plastic or paper bag for your initial order with us. We'll provide you with a special tagged laundry bag for customer identification. An additional bag will be included when your first order is delivered, which you may use when you reorder.

Q: How do I pay for your door-to-door service?
A: You may pay by check or credit card. If you are uncomfortable posting your credit card on the Internet, simply call us at 480-419-8778 and we'll take your card number over the phone. Credit Card Customers: Receive a detailed statement at the end of each month. Your credit card will be charged in the middle and end of the month. Payment by Check: Still need to have a credit card number on file. Statements are sent out at the end of each month. Terms are Net 10 days. After 10 days, your credit card will be charged for the entire balance to date.