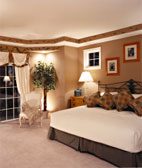 Households
Pleasant Dreams Begin with Freshly Cleaned Bedding.
There's nothing like clean soft and fresh smelling bedding to lull you to sleep.
Give your comforters, duvets, blankets, pillows and more that "just hung on the clothesline" freshness. It brightens any bedroom, and can make a great night's sleep even better. Your finest linens such as table linens, area rugs and draperies also deserve the finest possible care. Fine linens demand the most gentle care. Sometimes even hand washing can be a problem for the more delicate fabrics. We'll give your family favorites a gentle hand, and treat them as if they were our own.